Enterprise Marketing Models
Lower Risk. Lower Cost. Accelerate Outcomes.
Marketing leaders looking to compete in a virtual, digital world are often tasked with transforming the entire marketing operating model. To accomplish this, leaders must reinvent marketing methods and master new digital technologies. Those who succeed rely on architecture frameworks, models and best practices to guide technology decisions.
Let CapabilitySource be your guide to leverage proven transformation models and frameworks and confidently design your digital marketing solutions. Ensure marketing innovation and technology spend is focused on improving key capabilities needed to enable current marketing strategy.
At CapabilitySource, we leverage our enterprise architecture knowledge and apply standard enterprise architecture methodologies that focus on business capabilities as key elements of change. A capability to us consists of elements across People, Process, technology and Information (PPtI), not just looking at each as a single functionality.
People
Create an environment where contributor roles are clearly defined, team members are trained and equipped, performance is easily measured and contributions are accurately defined and reported. Ensure the right people can access what they need at the right time to successfully execute their role in any initiative, project or campaign.
Technology
Modernize technology solutions that simplify data collection and enable quality data exchange throughout an entire technology ecosystem. Retire antiquated, proprietary tools that no longer support current business needs.
Process
Standardize, centralize and automate the process of sharing data among all teams through custom, enterprise solutions. Use process engineering best practices to assess the "as-is" processes and recommend "to-be" processes that simplify data exchange.
Information
Capture custom data and propagate it across specific tasks to easily manage operations and measure results. Create structure by standardizing the information model and integrate and automate information across internal and external systems.
The CapabilitySource Marketing Work Management (MWM) Maturity Model will quickly determine your current state of health, identify opportunities to improve work methods and establish a target state for the way marketers work. This target state will guide incremental investments over time and set clear and measurable expectations. Maturity model assessments are particularly helpful for organizations shifting to a digital and virtual work environment.
Marketing Operations Maturity Benchmark Assessment
Establish a benchmark for your organization's current level of operational maturity across People, Process, technology and Information. Determine the desired and appropriate level of maturity for each capability dimension and receive a free report to help guide your plan to tackle your operational goals.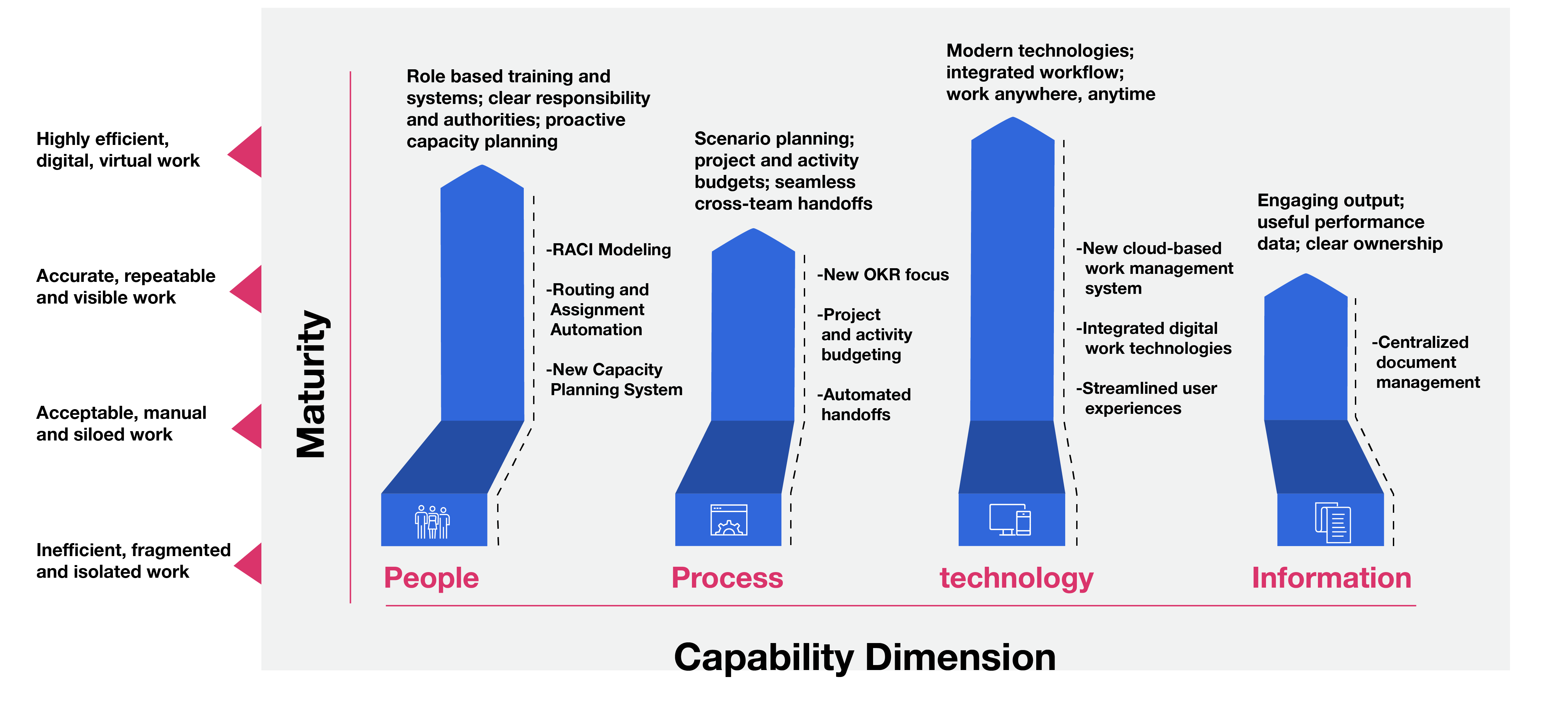 Your Path to Operational Excellence
Marketing leaders must understand where their organization currently stands on the path to operational excellence in order to forge their way forward. CapabilitySource leadership has developed the Marketing Operations Maturity Benchmark Assessment using experience from over 150 marketing operational transformations, industry research and Gartner analyst consultation. Start improving your operational maturity by taking the assessment today.
Companies with higher levels of operational maturity are more inclined to see greater marketing results such as increased lead volumes, improved marketing productivity, reduced overhead costs and more.
Use the free Marketing Operations Maturity Benchmark Assessment to determine your current levels of operational maturity and receive actionable suggestions customized to your organization's unique needs to improve. In just 24 questions you can change the course of your marketing organization for the better and drive real results.
Marketing Operations Maturity
Answer a minimum of 4 questions in each section to receive results.
Optimize Marketing from End-to-End
CapabilitySource configures, integrates, extends and enhances Work Management Technology to fit within the entire MarTech ecosystem. The End-to-End Marketing Process Model helps identify and prioritize capability improvements and adoption decisions, and ultimately meet the unique user experience needs for specific user groups and communities.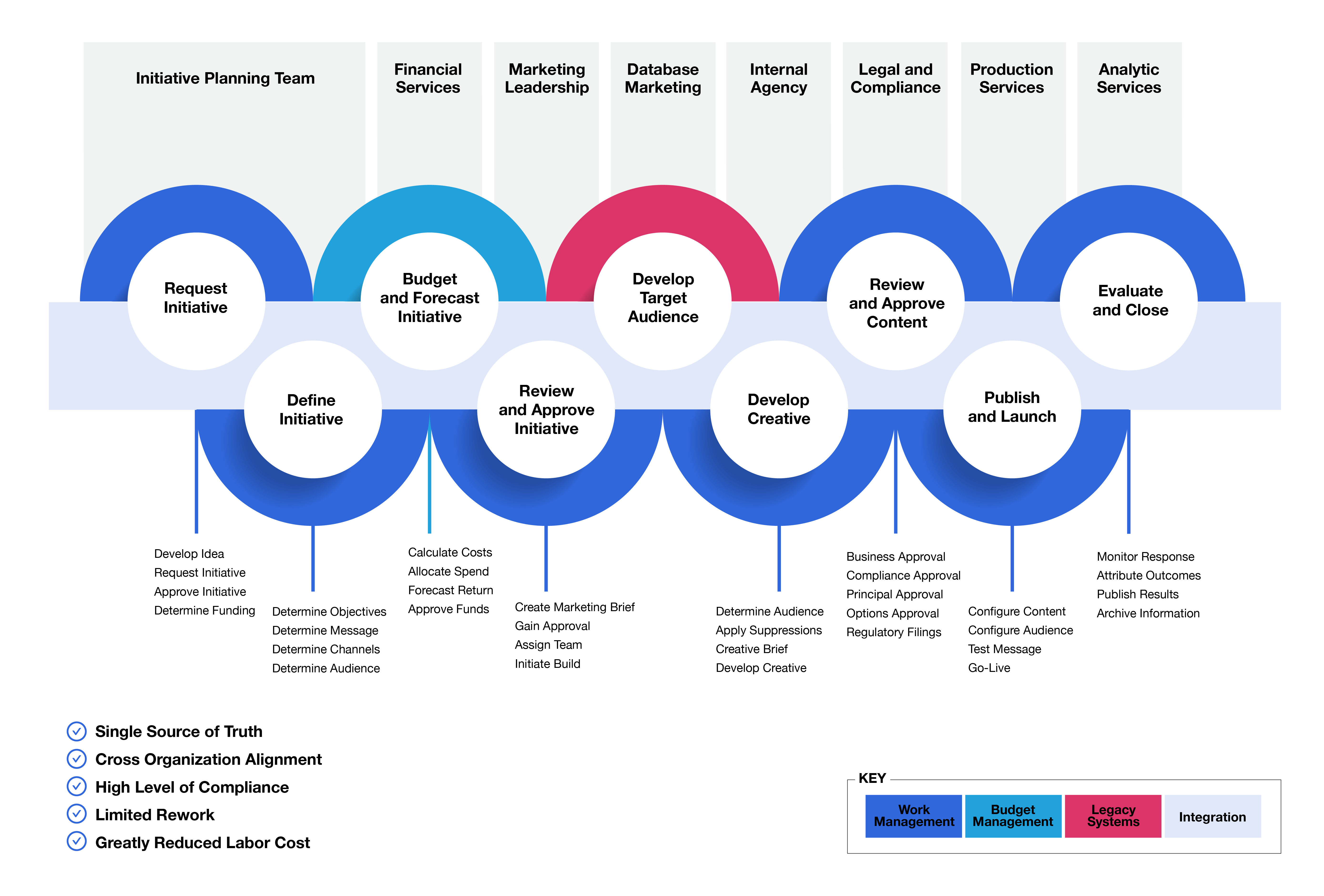 "Our consultant at CapabilitySource was extremely knowledgeable and adaptable. The team was great at taking the time to get to know the company, current systems and processes, and goals for the future prior to making recommendations."
Jump Start Your Digital Transformation with CapabilitySource Models and Frameworks​