In the modern digital world, marketing leaders are in need of unique marketing capabilities to deliver on their growth strategies. As digital technologies become more mainstream, marketers are transforming their marketing operations in unique and differentiating ways; ways that set them apart and produce efficiencies and capabilities that their competitors lack. These differentiating capabilities require a level of innovation and rapid time-to-production that teams may struggle to achieve.
Although marketing leaders desire fast and affordable innovation, existing IT or product innovation processes don't quite fit marketing's needs. For those marketing innovations that are approved, it is often hard to gain funding and resources. Innovation ideas are often accompanied by complaints about accountability and transparency. At CapabilitySource, we understand the challenges marketing leaders face with marketing innovation. We have seen our clients struggle to gain access to innovation capabilities and we have developed a unique way to help them. We have reimagined the marketing innovation process and developed CS Labs, a one-of-a-kind marketing innovation factory that our clients use to discover, evaluate, prototype and develop unique marketing solutions and technologies.
What Is CS Labs?
CS Labs is a world-class marketing innovation service provided by CapabilitySource. With CS Labs, marketing leaders gain solutions and answers to unique challenges their team encounters. They identify alternatives, determine viability and estimate ROI, without having to justify their place in the IT innovation pipeline and before they submit investment concepts of funding requests that may turn heads.
How Does CS Labs work?
Each submission goes through a process involving the following steps: discover, ideate, concept, prototype, pilot and build. CS Labs provides accountability, transparency and cost-justification throughout the innovation process that ensures each innovative idea is evaluated from both business and technical perspectives.
The process begins when a marketing challenge is identified. The idea or challenge can relate to any aspect of marketing, including things like organizational changes, process challenges, automation objectives, information needs or performance goals.
CS Labs experts review each submission and begin the ideation process. Reviewing each submission's viability is essential to ensure that only the best solutions progress through the innovation process. Once design alternatives have been identified and approved by the client, development begins in an accelerated fashion.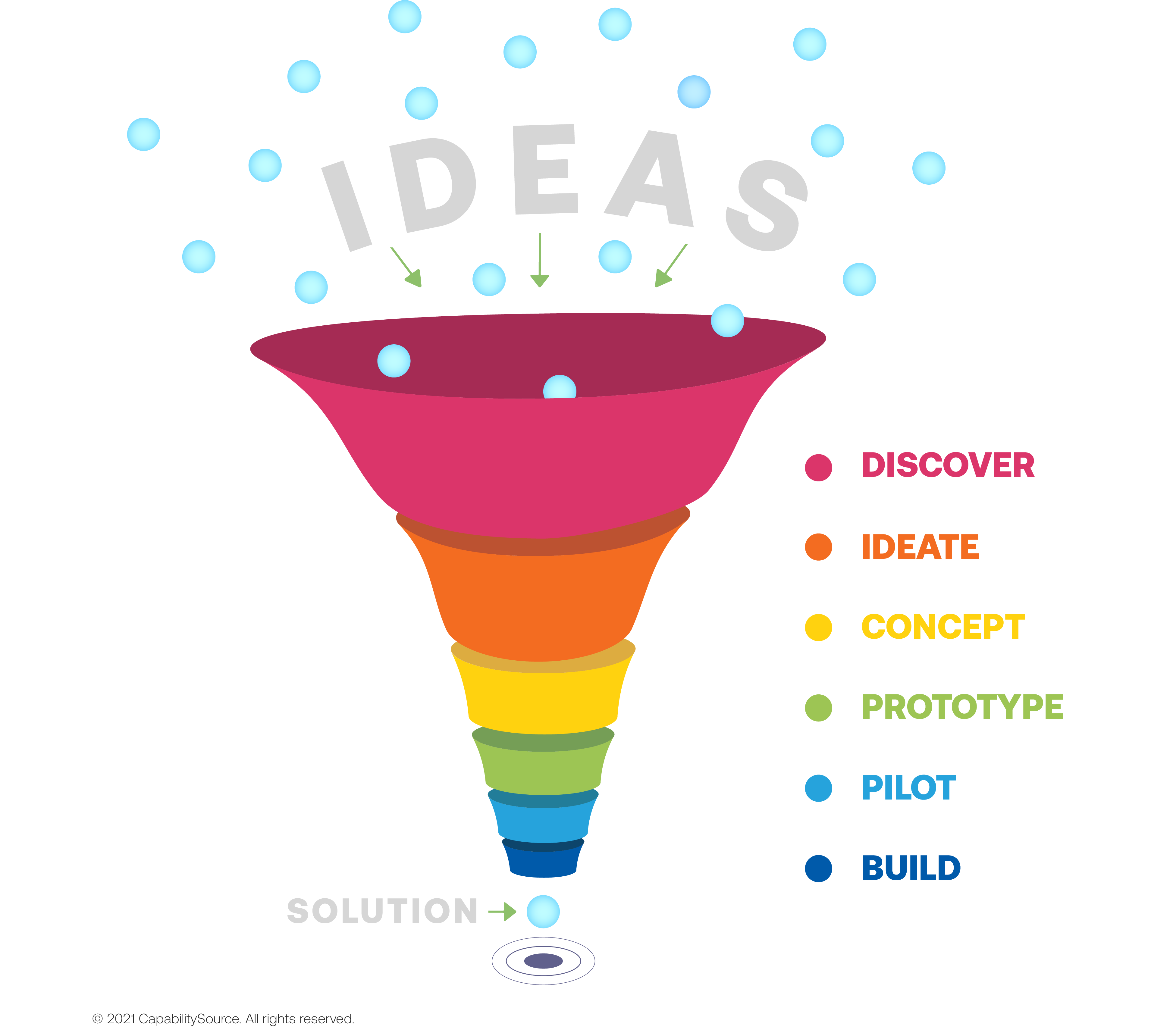 What Makes CS Labs Marketing Innovation Different?
CS Labs provides a rapid innovation process that is not biased by stakeholder preferences, departmental priorities or existing technologies. CS Labs provides the capabilities needed to evaluate new ideas unique to each client. The CS Labs team's personalized innovation approach is based on years of experience crafting more than 100 unique marketing solutions and implementing them in large and mid-size enterprises. A fundamental principle at CapabilitySource is: "Where technology exists, we use it. Where it doesn't, we invent it."
CS Labs recognizes that there is no one-size-fits-all marketing technology solution. We know each client requires a collection of marketing technologies customized to meet their specific situation. Mainstream innovation labs are often designed to meet the needs of many but fall short in meeting the needs of individual clients. CS Labs is different. We are designed to provide solutions for both individual clients and entire industries. By partnering with CS Labs, marketing leaders equip their teams to think outside-the-box, do new things in new ways and incubate creative ideas in an environment that fosters success with limited investment.